Accelerate the drive to achieve your ultimate smart factory with seamless communications.

Smart Manufacturing and the Industrial Internet of Things (IIoT) are automating labour-intensive processes and driving efficiency, but they are still only as good as the people who use them. Connect all workers and devices with voice and data, and expedite communications between machines and people automatically to keep your operations running smoothly.

Our intelligent communication solutions are used by manufacturers all over the world for seamless collaboration, optimised efficiency and rapidly response to whatever occurs.

Improve your coverage, clarity and worker safety. You'll optimise production and minimise downtime when you have reliable communications.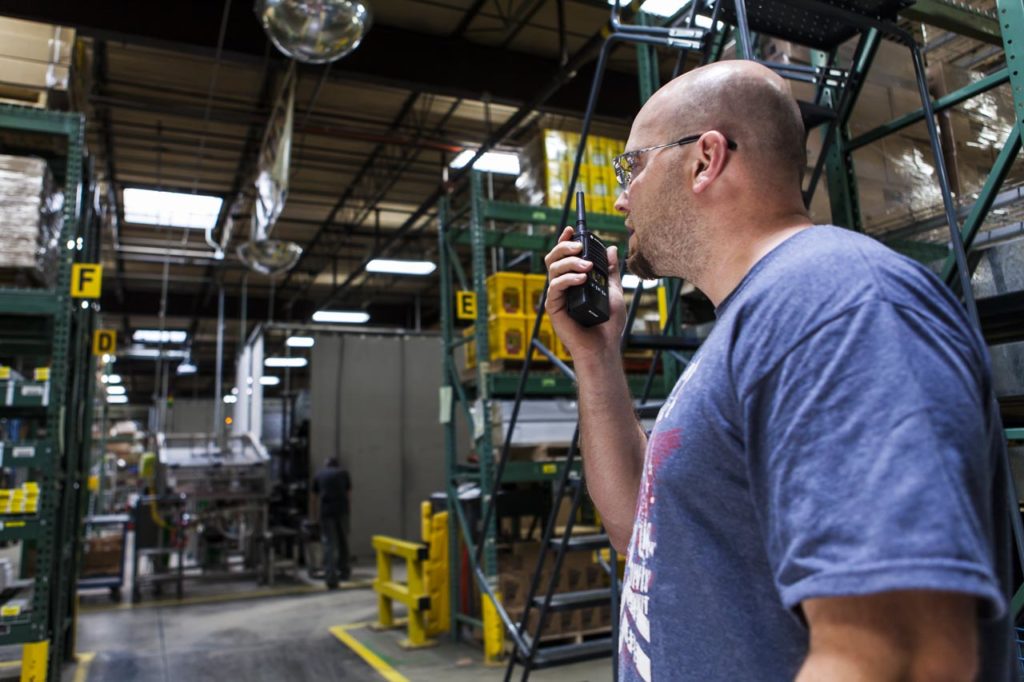 Our multi-purpose two-way radios, accessories that allow for hands-free operations and ease of movement and industry-leading applications help your teams work more safely and productively than ever before. Now you can give workers the real-time information they need, right when they need it, including users travelling outside your plant.
You can run operations at full speed, ramp up productivity and sharpen your competitive edge with a communication solution adapted to your unique needs.
Products
Our seamless communication solutions connect workers clearly and safely no matter where they are, even in the loudest plants. High-performing digital radios and accessories eliminate noise in the background and automatically adjust volume to match noise levels.

When talking is not feasible, your teams can communicate safely with text messaging. Add in our radios' heavy-duty design and now you have the critical tools in your plant.
MOTOTRBO™ SL4000e Smart two-way radios
The slim, light form factor incorporates high-performance integrated voice and data, delivering smart connectivity to your organization.
MOTOTRBO™ DP2000e Digital Two-Way Radios Series
With systems support and loud, clear audio, these next-generation radios deliver cost-effective connectivity to your organization.
MOTOTRBO™ DP4000e Digital Two-Way Radio Series
With high-performance integrated voice and data, and advanced features for efficient operation, these radios deliver complete connectivity to your organization.
Applications
Industry-leading applications are as integral to your operation as radios. Partnering with the top names, we designed them to help improve safety, increase efficiency and accelerate productivity.

Work Order Ticketing
Prioritises personnel and creates efficient workflows. Work Order Ticketing helps resolve issues fast, enhances the efficiency of personnel responding to issues and coordinating maintenance across the warehouse. It also helps generate reports to ensure efficient workflows.

System Monitoring
Stay in control with applications that track performance by site, channel, slot and talk group. Get automatic alerts and analytic reports.