Mining is complex. Safety requirements, unstable commodity prices, productivity pressure, increasing costs, mineral theft, and asset write-downs can make it even more challenging.

Today, as the world's hunger for raw minerals continues to grow, investing in the right communication solution is critical to success. Motorola Solutions anytime, anywhere communications, next-generation data capture and analysis tools, and comprehensive managed services help ensure a safer, more efficient work environment.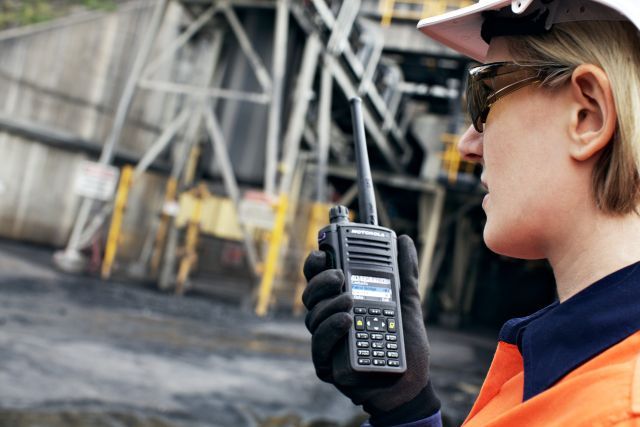 Our systems and services are forged from a deep history of delivering reliability and innovation to the mining industry. We understand the unique challenges you face on daily basis. It's time for a better solution.

Devices and Systems
Mines are one of the most challenging communications environments imaginable. Your mission critical communications must be delivered safely and dependably each and every time. That is why Motorola Solutions ensures our equipment meets the highest levels of safety and reliability requirements, able to withstand extreme temperatures, dust, noise, rain and toxic exposure
MOTOTRBO Systems
Connect different facilities with MOTOTRBO's IP Site Connect, Linked Capacity PLUS and Connect PLUS Trunking configurations. This allows the production or engineering team at one facility to talk directly with their counterparts at another location.
Project 25 (P25) Systems
Behind every radio is the strength of the system infrastructure and ASTRO 25 is designed to support both your day-to-day operations and the critical incidents when every call must get through.
Components and Applications
WAVE Work Group Communications
Push-to-talk between all of your devices and networks. WAVE connects your disparate networks such as radio, cellular, Wi-Fi, telephony and more so you can communicate between them. Whether on a smartphone, a radio, a computer or any other communications device, your personnel can connect instantly via PTT.
MOTOTRBO Radio System Applications
Motorola's Sold and Supported program offers a range of applications from our premium application development partners that add unique value to your MOTOTRBO radio system.